2017 Study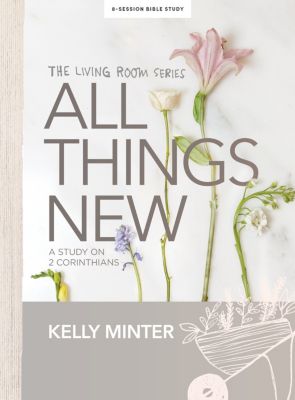 Come and join Compass Women this fall for a study on 2 Corinthians! Kelly Minter will lead us through the Letter of 2 Corinthians, exploring the anchoring truths of bearing treasures in jars of clay, meeting Christ through a pressing thorn, opening wide your heart in the midst of hurtful relationships, and what it means to embrace the lost and lonely as ministers of the new covenant. Each of us has a message to proclaim and live by: Because of Jesus the old has gone, the new has come.
Kelly Minter is an author, speaker, songwriter, and singer. She is passionate about women discovering Jesus Christ through the pages of Scripture. So whether it's through a song, study, or spoken word, Kelly's desire is to authentically express Christ to the women of this generation. In a culture where so many are hurting and broken, she loves to share about the healing and strength of Christ through the Bible's truth.
Thursday Morning (Orangeville)
Time: 9:20-11:30am
Dates: October 5 – November 23, 2017
September 21 – Continental Breakfast
Location: Orangeville Site, North Venue
Monday Evening (Orangeville)
Time: 7:15-8:45pm
Dates: September 25 – October 2, October 16 – November 27, 2017
Location: Orangeville Site, North Venue
Thursday Morning (Shelburne)
Time: 9:00-11:00am
Dates: October 5 – November 23, 2017
Location: TBD
Thursday Evening (Shelburne)
Time: 7:00-9:00pm
Dates: October 5 – November 23, 2017
Location: TBD
---
2018 Studies
Thursday Morning (Orangeville/Shelburne) – Monday Evening (Orangeville) – Thursday Evening (Shelburne)
Thursday Morning (Orangeville)
Time: 9:20-11:30am
Breathe – Making Room for Sabbath by Priscilla Shirer (January 18 – February 15, 2018)
One of the greatest challenges among women in our culture is taking time to stop and cease from all the activities and busyness and just breathe. We are in bondage to busyness. We constantly strive to complete the limitless to-do lists that hinder us from experiencing all that God has for us. We miss the moments because we rush ahead to the next thing. By neglecting time for tranquility, serenity, and repose, we limit our Christlikeness and miss out on some of God's greatest gifts. It is time for us to breathe and build margin into our lives for God. In the Old Testament, God instituted principles and laws that would transform the Israelites' mindset. He didn't just want them legally free; He wanted them to be able to walk in the freedom and enjoy it. So God gave them many gifts, including boundaries in which to enjoy those gifts. Sabbath was intended as a gift, and it is still a gift to us today. If you are weary, worn out, and exhausted the concept of Sabbath will change your life.
1 Peter: A Living Hope In Christ by Jen Wilkin (March 1 – May 10, 2018)
Our inheritance through Christ is imperishable, undefiled, and unfading. In 1 Peter, a man of faith and flaws and eyewitness to the life of Christ challenges us to look beyond our current circumstances to a future inheritance. He shares his concerns on big picture issues for the early church, describes believers' true identity in Christ, and ultimately helps readers discover what it means to experience the Living Hope they have in Christ.
Key themes of humility, submission, and identity in Christ guide the study of 1 Peter as participants are challenged to read the book in its entirety each week.
Monday Evening (Orangeville)
Time: 7:15-8:45pm
Discerning the Voice of God by Priscilla Shirer (January 15 – March 5, 2018)
Discover the root to clear and daily communication with God—humble obedience. Learn how surrender unlocks His many blessings intended for us, centers us in His will, and helps us discern His voice in everyday life.
Benefits:
Challenge yourself in the discipline of daily Bible study.
Gain practical advice for knowing and understanding God's voice through His Word.
Learn to recognize the Holy Spirit's character, language, and tone of voice.
Experience a deeper relationship with God, and strengthen your daily walk with Him.
We Saved You a Seat – Finding and Keeping Lasting Friendships by Lisa-Jo Baker (March 19 – May 7, 2018)
In today's busy world, we're wired to appear "fine," warding off authenticity and shielding ourselves from judgment. We hide behind the hum of busyness to escape intimate friendships with the women God has placed in our lives.
But we do want a seat at the table. We yearn for authentic relationships and the opportunity to be the opposite of "fine" with people who cheer for us. But comparison, envy, and entitlement often stop us from pulling out a chair at the table. Friendship can be hard, making new friends even harder, and maintaining genuine friendship the hardest of all.
Lisa-Jo Baker explores our relationship with Jesus as the ultimate model for authentic friendship. Nothing shapes us like the impact of a friend—it's how Jesus radically and intimately connects with us. So instead of chasing perfection, overcome your fear of being known and find the courage to connect.
Benefits:
Explore your relationship with Jesus as a model for friendship.
Debunk the myth of effortless friendship.
Overcome the fear of knowing and being known.
Stop running from friendship and find the courage to connect.
Thursday Morning (Shelburne)
Time: 9:00-11:00am
The Inheritance by Beth Moore (Winter)
The Inheritance is a series that takes an in-depth look at inheritance throughout God's Word. Based on Psalm 16:5-6, "the lines have fallen for me in pleasant places; indeed, I have a beautiful inheritance," Beth Moore will engage us in study and small group discussion.
He Speaks to Me: Preparing to Hear from God by Priscilla Shirer (Spring)
A common question of many Christians is, "How can I know when God is speaking to me?" Priscilla uses the account of God speaking to Samuel in 1 Samuel 3 to show how God speaks to Christians and how we can discern His voice and position ourselves to respond. In this exciting adventure, participants will discover how God spoke to Samuel, Samuel's response, and how He speaks to believers today; they will be encouraged to listen and respond to God's voice; and by listening to God's voice and obeying Him, women will experience spiritual growth, Christian discipline, and the desire to serve.
 Thursday Evening (Shelburne)
Time: 7:00-9:00pm
Hebrews – The Nearness of King Jesus by Lisa Harper (January 18 – May 10, 2018)
The Book of Hebrews is a rich, dense section of Scripture that can intimidate the most scholarly biblical student. But Lisa Harper makes digging into Hebrews fun and doable, as only she can, without losing an ounce of depth. Join Lisa as she journeys through this bridge between the Old and New Testaments to get to the heart of the matter: Jesus is our accessible King. He is not a faraway God, but an up-close Redeemer who draws near to us. Hebrews helps women make the connection between God the Father and God the Son and reminds us that Jesus is supreme, but He is also compassionate, empathetic, and loving to no end.
Finding I Am –How Jesus Fully Satisfies the Cry of Your Heart by Lysa TerKeurst (Winter/Spring)
What is the deep cry of your heart? The ache in your soul that keeps you up at night? The prayer you keep repeating? Jesus not only cares about this deep, spiritual wrestling, but He also wants to step in and see you through it.
Join Lysa TerKeurst on the streets of Israel to explore the seven I AM statements of Jesus found in the Gospel of John. Through this interactive, in-depth study we will be trading feelings of emptiness and depletion for the fullness of knowing who Jesus is like never before.
Lysa TerKeurst is an author, speaker, and president of Proverbs 31 Ministries.